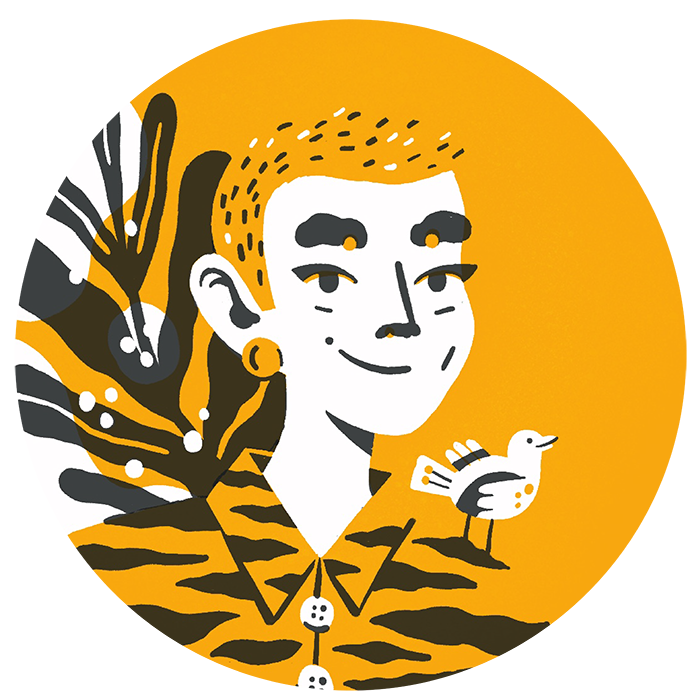 Hey! My name is Esther a.k.a vonik.
I work as a freelancer from my city centre studio in Amsterdam, focusing on illustrations, hand drawn typography and murals. Time wise it's an even split between handmade and digital projects, which makes me pretty 'fluent' in paint, pencils & markers as well as Procreate, Illustrator & Photoshop. 
In 2017 I've joined Mural forces with Lienke Raben, together we work under the name Wallnuts Murals. We've had the opportunity to work on some pretty cool projects and do a bit of traveling at the same time.  
In my spare time I like to work on analogue techniques such as lino-prints and ceramics, from which some of the results are for sale in my webshop and in the Maker Store in Amsterdam. 
Besides my love for drawing, I'm an absolute sucker for pizza, Harry Potter, plants, old stuff and birds. On my days off I like to go hiking or visit new cities, stroll around, enter botanical gardens and have a beer. That's the short(ish) version of what I do and who I am, if you are interested in working together or have a question feel free to contact me.
'From Amsterdam to New York

' Group Exhibition
April 2016, Greenpoint Gallery, Brooklyn, New York



'A0 Bound Freedom #4'

 Group Exhibition
Februari 2016, Kelderman en van Noort, Eindhoven



'From Jan Eef to New York' 

Group Exhibition
December 2015, Toon, Amsterdam



'Planet Tropicana'

 Group Exhibition
August 2014, Untiteld Gallery, Rotterdam
Amnesty International, innocent drinks, Plus Supermarket - Blauw Gras, Typeform, Movies That Matter Festival, de Correspondent, Converse - Anomaly, Stabilo - Yune, Toms, Nationale Nederlanden, Baderie, Stayokay Hostels, Bending Spoons.